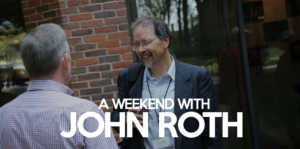 John D. Roth, professor of history at Goshen College and editor of the Mennonite Quarterly Review, spoke at Portland Mennonite Church, February 23 & 24, 2019. Roth narrated the unique history of Anabaptist Christians, giving insight into an increasingly global Anabaptism, and the lasting relevance of our Mennonite calling.
Saturday Evening:
Session 1: A Story-Shaped People: The Burden and the Gift of the Anabaptist Tradition
Session 2: What Hath Zurich to do with Addis Ababa? Reframing the Anabaptist Story as if the Global Church Mattered
Sunday Morning Sermon: By Whose Authority? Sharing the Anabaptist Story in the 21st Century (Matt. 28:16-20; I Cor. 3:11
You may find the links to the audio recordings here.
Related Links:
• John D. Roth Profile of History
• Professor John D. Roth receives Washington Theological Consortium Ecumenism award
• ISGA: Institute for the Study of Global Anabaptism
• Global Anabaptist Profile
• Global Anabaptist Initiatives
• Global Anabaptist Publications
• Bearing Witness Stories Project
• GAMEO: Global Anabaptist Mennonite Encyclopedia Online
• GAMEO Finds A New Home
• GAMEO Goes Global
• If you think of other topics reference in John's presentations that should be linked here, please let me know.