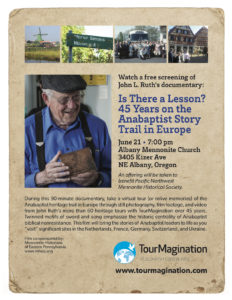 If you have ever travelled with John Ruth on a European Anabaptist Heritage tour you won't want to miss his 90 minute documentary entitled Is There a Lesson?. During this 90-minute documentary, relive your memories of travelling the Anabaptist heritage trail in Europe through still photography from the 1960's through decades of film footage to video from John's more than 60 heritage tours. The four-country tour is linked by the twinned motifs of sword and song, emphasizing the original centrality of the Anabaptist theme of biblical nonresistance. Even if you never went on a heritage tour, this film will help to bring the stories of Anabaptist leaders to life as you virtually "visit" significant sites in the Netherlands, France, Germany and Switzerland.
Save the date: June 21 • 7:00 pm Albany Mennonite Church 3405 Kizer Ave NE Albany Oregon.
An offering will be taken to benefit Pacific Northwest Mennonite Historical Society.
WATCH the FILM TRAILER.