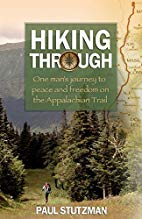 Paul Stutzman, born Amish and raised very strict Conservative Mennonite, is an A.T. through-hiker and the author of "Hiking Through: One Man's Journey to Peace and Freedom on the Appalachian Trail." Here he recounts the greatest adventure of his life, telling us about the loss that drove him to the trail, and the freedom he found out there. His story was featured, February 11, 2019, on Hike Logistics at this link with more on the author's website.
We have 3 of the authors books in our library Hiking Through, The Wanderers, and Biking Across America, you may check them out, find them at your local library or purchase them on his website.
Enjoy beautiful photos of his adventures here, about his Media and Reviews here, and his Blog here.