Chasing History
A series featuring the people that made PNMHS possible.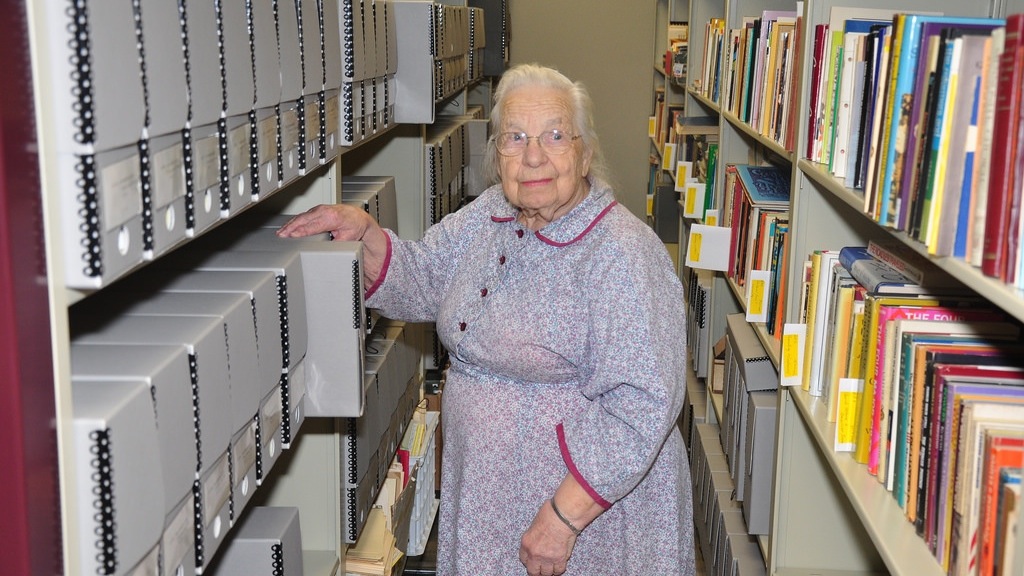 Margaret Shetler, 94, fulfilling her duty as archivist at Pacific Northwest Mennonite Historical Society as she has done for many years.
A desire that could not be ignored
By Heather Harney
Margaret Shetler answers the door with a broad smile. She wears a small white transparent headcovering on back of her silver hair and a dress with a simple print as she invites me to take a seat. I have come to hear her story, one of finding faith, family, and community.
Shetler has been the archivist for the Pacific Northwest Mennonite Historical Society for many years. Her passion for researching lineage, heritage, and compiling histories of the Mennonite church in Oregon is inspiring and serves as a springboard for the following series of features.
The oldest child of Courtney Gray Pursley and (Thelma) Rae Taylor, Shetler was born March 18, 1922 in Oroville, Washington. Her brother, Myron, was born a year later followed by John, 1925, and Dorothy, 1927. Shetler did not grow up in the Mennonite faith. Her family allowed her to attend Sunday School at a local church near their home, but they were never active within a church. When the family moved to Salem, her mother attended Court Street Christian Church with her, eventually becoming a member.
However, when the family moved to the Meridian area, the children were invited to summer Bible school at Hopewell Mennonite Church. Initially, Shetler found the Mennonites "odd" but as time went on, she found them to be welcoming and began to think about becoming a Christian. Her parents did not want her to join the church so she did not; however, Shetler continued to attend service and Sunday school.
On August 30, 1937, Shetler's sister, Dorothy, was in a horrible accident. Myron's shotgun misfired and tore through Dorothy's abdomen killing her instantly. Her funeral was arranged by Henry Wolfer, bishop of Hopewell. After the funeral, Shetler's parents allowed her to join the church and she was baptized eight months later at sixteen years old.
In 1941, Shetler decided to apply and attend Hesston College and Bible School in Hesston, Kansas. She planned to become a teacher, due to peer pressure; however, her secret desire was to become a secretary. While in high school, she took bookkeeping, shorthand, typing and office practice classes.  Assigned to be Milo Kauffman's secretary at Hesston, Shetler found on the second day of the semester she would also use her skill sets for other members of the faculty. She even found herself being a substitute teacher when faculty needed coverage.
A few months later, Ralph Shetler asked Margaret to attend church with him. Her first notion was to politely refuse but she did not. "I had not gone to college to date," said Margaret.
**To be continued.